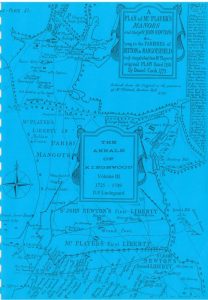 There was never a dull moment in Kingswood, a place where only the most intrepid dared to set foot – or so they say! The colliers rioted against the imposition of turnpike tolls in 1727 and 1749. In 1738 they went on strike for a week causing 'turbulent commotions' in Bristol.  Then along came George Whitfield who preached in the open fields to the colliers and recorded the white gutters of their tears which fell down their coal-black faces. Hot foot behind George came John Wesley. The outcome was "That Great Stir" 1739/1740 and Kingswood's conversion to Methodism.  John Cennick also arrived, an enthusiastic twenty year old, but soon fell out with Wesley, and formed his own group, twelve men and twelve women all named.  One of the Kingswood colliers, James Stone, married Cennick's sister, Anna. Their daughter Mary, who married a marine called John Kennedy would become Kingswood's own "First Fleeter" in 1788. Mary's hymn book, with her own annotations, which went with her on the famous voyage is reproduced here.
In November 1735 there was a spectacular rescue of three men and a boy entombed for ten days and nights in a coalmine in Two Mile Hill, with amazing feats of courage by both rescued and rescuers. A thanksgiving service duly took place in a packed church at Siston.
Regrettably, a number of local men were executed, including Abraham Caines, apparently the first time this notorious family fell foul of the law. At the other end of the social scale William Seymour murdered his brother Berkeley at Bitton Parsonage in 1742. They were kinsmen of Jane Seymour of Wolf Hall, the third queen of Henry VIII.
Anybody missing a marriage in their family tree should look at pages 73/74. It was this sort of carry-on that led to Lord Hardwicke's Marriage Act of 1754.
First published September 1996.
Click the link below to download: