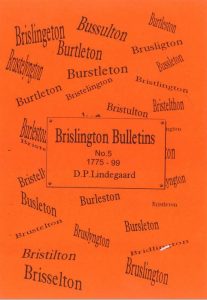 The wealth of all those named in this first paragraph derived in some way from slave ownership. John Maxse, a West India merchant, succeeded the bankrupt William Reeve (who died in 1778) at Arno's Vale. A Memorial Inscription in the church records the sad death in 1798 of John, son of John and Charlotte Maxse aged 10 years and six months. John Estridge died at his seat near Weymouth in 1794, though his remains were brought back to Brislington for interment in the family vault at St Luke's.  Thomas Cooper Vanderhorst married Hannah Beale at St Luke's in 1799. His father Elias, "a merchant of Bristol and Maryland" was sometime American consul in Bristol.
Of the "middling sort" Nehemiah Bartley of 22 Temple Street, is listed in Sketchley's Directory of Bristol, 1775 as a "distiller, vinegar maker & cyder-merchant". By 1786 he was living at The Elms, where he wrote learned pamphlets on experimental cultivation, "buckwheat made at Brislington", and grew crops as diverse as coriander and Jerusalem artichokes. The Willoughby family were unusual for being Roman Catholic; I have devoted a page to them.
Swathes of the lesser orders were examined in detail by the churchwardens who questioned their right to remain in the parish. Elizabeth Bartlett with her three small children was harried from the proverbial "pillar to post" in 1784, while in 1786, one of my own, the recently widowed Susanna Challenger, nee Pillinger, of Brislington was found "wandering abroad and living in the open air" with her sons of ten and eight years old. There was no safety net and many fell through into destitution.  As well as these, look out for other sad cases, the reluctant bridegrooms who were married by force.
Brislington Common was enclosed in 1780, and divvied up, though not equally, among various landowners, with the names Langton and Ireland prominent. Travellers crossing the "Wasteland" took their lives in their hands: and any passing horse or carriage could be "stopped" often with violence. There was no Police Force, so sometimes the alleged miscreants were apprehended, sometimes not. James Sage, 1781, and two Irishmen, William Jones and Bartholomew O'Neil in 1785 were hanged for robberies on the Common. The latter affair in which six men were to be despatched at once was disgracefully botched.  Let the advocates of capital punishment take note.
First published 1996
Click the link below to download: