Pem, tell me about when you were a little girl..…."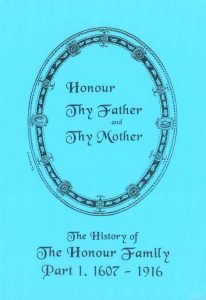 This was me, as soon as I learned to talk.
So, take one excessively inquisitive child, who wanted to know everything about everything; 'a maiden aunt', born into the world of 1895, only too willing to share her vivid memories; then throw in a Family Bible with another three generations. Mix together well and you have the ingredients of my maternal history.
Generations of my Honour family lived in Oxfordshire: if not quite from the year dot, then at least with certainty back to Henry VIII and the dangerous years of the Reformation.  If you think they do not belong on a Bristol website, read on.
I am a Bristolian. My ten year old mother, Flo, recently orphaned by the sudden death of her mother, came to the City in 1916, at the height of the Great War, with her older sister and little brother to join their father, Levi Honour, who was in the City engaged in a mysterious task, described to me as "Government work: collecting fodder for the Army", which I have never been able to unravel. Levi and his two daughters stayed in Bristol after the war and never left.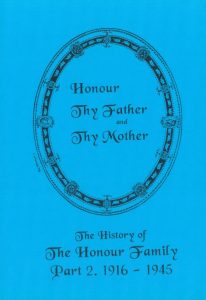 My mother believed in fate. Her mantra was "Whatever will be, will be."  Fate? Cause and Effect? Call it what you will. There is an inevitably about it. Without the events described, Mum would not have met Dad and I would not be here writing this. So Oxford – Bristol – anywhere –? My website, my rules!
First published 1993
Click the links below to download:
Honour Thy Father and Thy Mother: The History of The Honour Family Part 1. 1607-1916
Honour Thy Father and Thy Mother: The History of The Honour Family Part 2. 1916 -1945