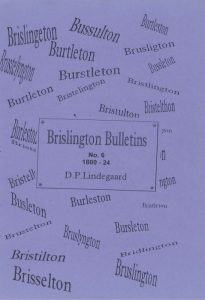 Brislington Bulletins no. 6, 1800-24 was compiled in January 2003. Brislington, population 542, was a magnet for the newly rich away from the hustle and bustle of the big city of Bristol. Some notable arrivals:
"What a wonderful place to build a collection!"
thought the West India Merchant George Weare Braikenridge who took early retirement aged 46 in 1820 to devote his time to antiquarian pursuits. I was unaware in 2003 that he and John Braikenridge owned 256 enslaved people on the St Elizabeth estate in Jamaica, for whom they received £4,673. 9s 7d compensation when slavery was abolished.
"A splendid place to open a lunatic asylum!" 
thought the mental health pioneer, Dr Edward Fox.
In 1819 the Rev William Daniel Conybeare , one of the "Fathers of Paleontology", became Brislington's curate. With his friend, the better known William Buckland he went on fossil hunting expeditions. His fanciful drawing of Buckland entering "a hyenas' cave" in Kirkdale, Yorkshire in 1821, shows bones littering the floor, and imaginary hyenas still alive!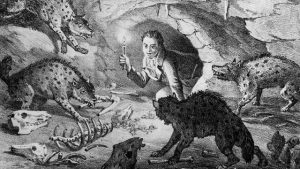 My family of fossil hunters have kept the tradition alive, but my most favourite inhabitant of all, is Mary Jane Catherine Comet, and for her, please see Appendix 4, or her story told elsewhere on these pages!
Click the link below to download: