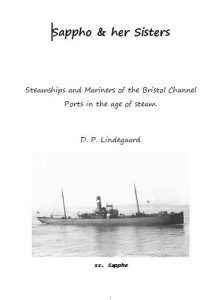 I wrote the above book, "Sappho & her Sisters" following a chance discovery of the seamen belonging to Bristol Steam Navigation Company's ship "Sappho" who had the misfortune to be "Bottled Up" in Hamburg after a routine Channel crossing on the day war broke out in August 1914. Their ship was impounded and they spent the rest of the Great War as Civilian POWs at Ruhleben near Berlin. Among their companions in the prison camp were Bristol men from many other ships and a smattering of unlucky tourists who were also interned. I have included these others in the story.
Part 2 of the book concerns many Bristol seamen who sailed on BSNC's series of ships called "Sappho" and her sister ships, all of which had classical names, plus a few others, and covers a period from Victorian times until World War II and beyond.
The Epilogue includes the reminiscences, of a few "old mariners" from the 1950s and 1960s, who recall a way of life now almost forgotten.
Click the link below to download:
Sappho & Her Sisters: Steamships and Mariners of the Bristol Channel Ports in the Age of Steam