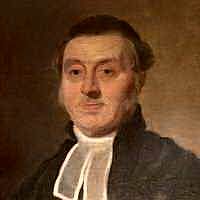 The Reverend William Day, the vicar of St Philip's & St Jacob's, from 1810-32 ministered to a large flock, at both the "In" and "Out" departments of his extensive parish, "In" being within the walls of Bristol and "Out" being the 'lawless' lands to the East of the City beyond the Gate then loosely known as 'Kingswood'. He was also Chaplain to Bristol Gaol having the unenviable task of attending the condemned before their lonely walk to the scaffold. One would have thought this enough for any person, without additional work, but William Day also made himself available to his flock as a one man proto-Citizen's Advice Bureau. The following correspondence dates from the time of his appointment in 1810 until 1815.
His parishioners, many of whom were illiterate, came to him for help when their sons, husbands or brothers, who were serving in the Army or Royal Navy during the long war against Napoleon had gone missing. Mr Day would write to the War Office or Admiralty on their behalf for information.
In our age of instant communication it is almost impossible to contemplate waiting anxiously for news of a loved one over a period of months or even years. Also, we can scarcely comprehend a system whereby the Government did not automatically notify the next of kin of the deaths of servicemen. If they were not informed by a mate of the deceased, the waiting wives, parents, brothers or sisters had to make such enquiries themselves. Civil servants naturally produced a form for the purpose. The responses were always terse, either "alive at the last return", which could be anything up to six months previously or even more out of date, or "dead", the news imparted without sympathy or regret. These bureaucratic correspondents can be compared unfavourably with the humanity displayed by the soldier, Sergeant Thomas Clark, whose letter to the parents of John Bennett and John Guy, both killed at Salamanca or the seaman John Vinor, whose tender-hearted letter imparted the sad news of the death of James Hungerford.  These were not the ruffians of popular myth.
If the news was bad, Mr Day helped the dependants enquire about prize money or wages due to the deceased, to which they were entitled. They brought letters to the vestry for Mr Day to read for them. Once they knew the contents of the letter, it is apparent that some relatives carried away the information in their heads, and having no further use for the  original pieces of paper left them m the hands of the vicar. We can be sure that as many more took letters away with them, those that remain were carefully filed by Mr Day and now form part of the records of St Philip & St Jacob in the Bristol Recordves Office, thus leaving us with an archive which in my experience is unique, providing an intimate view of these military/naval lives from the bottom up. I have left the original spelling and grammar of the letters as this is a real joy. It is also interesting to note how widespread Britannia's interests lay, from Spain to South America, from Sicily to Sri Lanka, it was truly a "World War".
It is a matter of wonderment to me that anybody in those years would willingly enlist in the army or navy, where discipline was routinely maintained by the lash, and you stood a good chance being killed or maimed.
Rev Day's intervention took place from 1810, though some of the letters brought to him were dated much earlier, the earliest being 1803.
Part 1 – The Army:
Name
Date of letter/reply
Regiment
Name of enquirer
Result
Survived
Thomas Austin
24.6.1811
1st Bn, 28th Foot (N. Glos)
George Austin, father
April-Jun 1811 at Gibraltar
.

yes

Born Bristol, 1780. served 1804-15 aged 35
William Baker
29.10.1813

56th
Joan Baker, wife
24.12.1812. not heard of regimental rolls
Not traced in War Office rolls of survivors. Presumed dead
Born Wells, labourer, enlisted 1811
John Bennett
23.7.1812
Sergt
Mother, Mrs Bennett
Died of wounds, Salamanca, 22.7.1812
No
Informant  Sergt Thomas Clark, friend
Thomas Crease
May, June 1812
Driver, Royal Artillery
Wife Anne?
Died 16.1.1812 at Woolwich
No
John Guy
2.7.1812
Sergt, Light Company
Mother, Mrs Guy
Died of wounds
No
Informant  Sergt Thomas Clark, friend
Dennis Hellin
2.8.1814
47th Foot
Wife, Ann Hellin
Not found in regiment. Had not been heard of by wife since 1808
Not traced in War Office rolls of survivors. Presumed dead
Born Manchester, fancy waistcoat weaver
Edward Hudd
Undated
52nd
Mother, Mary Hudd
Not traced in War Office rolls of survivors. Presumed dead
William Keene
10.6.1812
Sergt, Light Company, 1st Bn, 50th
Wife Christiana Keene
No reply survives
Probably died at Badajoz
Born Pill, had served 10 years by 1812
William Taylor
6.5.1812
1st Bn 35th
parents
24.12.1811, living at Zante
Not traced in War Office  rolls of survivors, presumed dead
John Tucker
29.1.1812
3rd Regt Guard
Wife
3.4.1812, with the Battalion in Portugal
Yes
Born High Littleton, ca1782 served 1800-23, discharged aged 41
John Ward
Ca1811
1st Bn, 66th
Joseph Ward, father
24.3.1810, living at Trincomallee
Not traced in War Office rolls of survivors. Presumed dead
Joseph Ward
Ca1811
1st Bn, 62nd
Joseph Ward, father
24.11.1810 living at Malazzo
Not traced in War Office rolls of survivors. Presumed dead
Joseph Warren
25.8.1813
52nd
Samuel Warren
Died 18.12.1812
No
THE ARMY LETTERS
1810
JOHN WARD & JOSEPH WARD
(Document No. 7)
William Day wrote to the War Office concerning these two brothers, undated, but perhaps some time in 1810/1811:
The parents of John Ward of the 66th Regiment and Joseph Ward of the 62nd Regiment are very uneasy not having heard from them. Would you kindly inform me whether they are living or dead?
The reply was addressed to: Joseph Ward, At Mrs Barnett's, Great George Street, St Philips, Bristol.
62nd, 1st Battalion. Josh. Ward was living at Milazzo, 24 November 1810
66th, 1st Battalion. John Ward was living at Trincomalii, 24 March 1810
NOTES:
*Trincomallee a coastal port in Sri Lanka, then called Ceylon.
Milazzo in Sicily was defended by the British Army with a Sicilian volunteer force 1806-15.
The 62nd became the Wiltshire Regiment.
The 66th became the Royal Berkshire Regiment.
Joseph Ward: son of Joseph & Mary Ward, baptised 15 Dec 1773, Temple, Bristol.
John Ward:
Mrs Barnett: at Great George Street
1811
THOMAS AUSTIN
(Document No 7)
Sir
Geo Austin, a poor man of my parish has solicited me to request information as to whether his son Thomas Austin of the First Batn 28th Regiment of Foot be living or dead. Your kind answer will oblige him, and sir,
Your obedient servant
W. Day
Vicar of St Philips, Bristol.
24 June 1811
The reply, on a printed form, stated: Was on duty at Gibraltar 24 April 1811 to 19 June 1811 and added:
Sir
I have the Secretary of War's direction to return your application relative to Thomas Austin with remarks from the muster Master General's Office. (Handwritten) I take leave to send a few printed forms which may be the means of saving you the trouble in similar applications.
I am sir, your obedient servant
W. Merry.
NOTES:
A George Austin married Sarah Thomas at St James, Bristol on 7 August 1780, and they may be Thomas's parents.
Thomas served in the 28th Foot, (North Gloucestershire) and was born c1780 in Bristol. He enlisted in 1804 and survived the War. He was discharged to pension aged 35. (GRO HO 97/469/27)  In 1841, described "pensioner", he was living at Brick Street, St Philips. I have not yet found his baptism or burial.
BENJAMIN BALL
(Document No 9)
To the Treasurer of the Navy Office, London
Sir
Solicited by one of my parishioners whose name is William Oliver and whose wife is sister to Benjamin Ball, I write to request information whether the said Benjamin Ball of the 48th Regiment of Foot is living or dead. Your answer will oblige him and me.
Sir, your obedient and humble servant
William Day
Vicar of St Philips.
On surveying the Memorandum I made, I perceive a blot which may have rendered the 0 an 8 or if not too much trouble, tho' I am almost sure it is the 48th, I would thank you to examine both 48th and 40th of both Foot Regiments.
Endorsement by the Navy Office on the bottom of the letter: This application should go to the War Office, send to Mr Merry.
The reply, 11 February 1811:
1st Battalion 40th Foot, Benjamin Ball, Corporal, was living in Palyce (?) 24th last November. NB There is no such name as Benjamin Ball in the return of the 48th Foot.
The 40th became the 2nd Somerset Regiment.
A William Oliver married Jane Ball at Blandford Forum, Dorset in 1763.
WILLIAM TAYLOR
(Documents no 23 & 65.)
The parents of William Taylor brought the following letter, dated 4 January 1811, to Mr Day in May 1812. It was addressed:
William Taylor
Butcher
Hillbroad Street
Bulls Court
Bristol
Island of Zante, 4 January 1811
 Dr Mother and Father
This comes to you with my love and best Respects hoping most sincerely that it will find you in good health as by the Blessing of Divine providence it leaves me at this time. I received your letter 19th last month and was happy to hear of your welfare. We have taken three of the Ionian Ilse (sic) from the French since I sent the last letter. I hope my brothers and sisters are all in good health and desire my love to them as also to my cousins who I hope are all well. With respects to news we have none of any consequence. The Islands we are in possession of are very small but Abound in good wine and provisions which are very cheap, so I conclude with subscribing myself
Your loving son
Wm Taylor
PS Please to direct for me Capt Greens Compy 1st Battn 35th Regt Island of Zante, Mediterranean.
There was no further news for over a year, and the Taylors went to see Reverend Day. They gave him William's letter and added the information that he had volunteered from the Militia into the 35th (The Royal Sussex).
On 6 May 1812, Mr Day wrote:
Sir
The parents of the above William Taylor are anxious to know whether their son be living or dead. Information on this subject will be gratefully received.
The reply was swift, dated 11 May:
William Taylor, private was living at Zante, 24 December 1811.
 NOTES
The 35th Regiment was stationed at Zante, (now Zakynthos) one of the Ionian Isles. William Taylor and Phoebe Timewall who were married at St Philip & St Jacobs, Bristol on 23rd December 1792, may be the anxious parents.
1812
JOHN TUCKER
(Document No. 32)
To the Secretary of War:
Sir
I am requested by the wife of John Tucker of the 3rd Regiment of Guard to enquire if he be living or not as she has not heard of him since October 1810 from Cadiz. Your answer will oblige her, living at Larrance (sic – Lawrence) Hill, St Philips, Bristol.
Your humble servant
William Day
Vicar of St Philip & St Jacobs, 29th January 1812
The letter was returned with the answer on the bottom: John Tucker presently with the Battn in Portugal by Return dated 1st February 1812. Old Room, 3rd April 1812.
NOTES
John Tucker 3rd Regiment of Guards served 1800-1823, and was discharged from the Army aged 41. He was born at High Littleton, Somerset. He was living at Timsbury in 1851, "aged 68, Tailor & Pensioner" with his wife Martha and daughter Harriett Rogers.
THOMAS CREASE
(Documents No 33 & 34)
A copy of Mr Day's original letter has not survived, but there were two replies:
Woolwich 6th May 1812
Sir
In answer to your enquiry I have to inform you that Royal Artillery Driver Thomas Crease died at this place 16th January last.
Woolwich 16th June 1812
Sir
The credits of the late Driver Thomas Crease with what arose from the sale of his necessaries amounting to £2.3s 4d have been paid into the hands of Messrs Hopkinsons, Agents to the Corps of Royal Artillery Divers, No 5, St Albans St, Pall Mall, London. His widow may obtain same by applying to these Gentlemen.
NOTES
There are two marriages in Bristol referring to a man of this name:
Thomas Crease & Anne Chambers at St Philip & St Jacob on 1st February 1795 &
Thomas Crease & Anne Stokes at St Augustine on 4th January 1809.
WILLIAM KEENE
(Document No. 3)
Bristol, Jun 10th 1812
Hon'd Sir
My husband, William Keene, sergeant in the Light Company first battalion HM 50th Foot, born at Pill, county of Gloucester has been serving 10 years in the said 50th Regiment, has been in Spain with the regiment the time of their services there during which I have been in the habit of frequently hearing from him his last letter to me is dated Jany last at Bellafranky* the day of their advance to that place having no account of him since the engagement of Badajos etc in which the 50th were engaged I am of course of natural affection to my husband under the greatest anxiety of mind and beg to know from you whether he be living or dead and where if living. The favour of yr speedy reply will much oblige sir, yr obedient humble servant
Christiana Keene
Please address to me at Mr Hall, hairdresser, West Street, Lawfords Gate Bristol.
 This is to inform the Hon'ble Secretary at War that above subscribing Christiana Keene is an inhabitant of our parish and lawfull wife of William Keene, sergnt in the 50th Light. Witness our hands
William Day, Minister of St Philip and Jacobs
John James Barns, churchwarden
No reply has survived.
NOTES
William Keen (sic): baptised at Easton-in-Gordano, son of William & Sarah, 27th June 1784.
William Keene = Christiana ——-
Regiment: 50th Light Foot (Raised as 52nd Foot, and renumbered 50th in 1757. In 1782 it became the 50th (West Kent) Regiment of Foot.)
Joined Army: circa 1802
Rank: Sergeant
*"Bellafranky" – This must be Villefranche.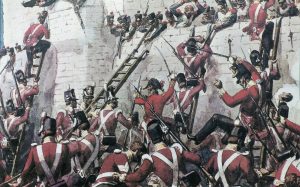 The battle for Badajoz took place in 16th March to 8th April 1812. It was one of the bloodiest engagements of the Peninsular War. About 5,000 British & Allied soldiers were killed, among them possibly William Keene.
It seems unlikely that Sergt Keene survived. Christiana Keene married John Hand at St Paul's Bristol, 28th November 1820.
JOHN BENNETT & JOHN GUY
(Documents 20, 21 & 23)
Dundalk, 23rd October 1812
Mrs Bennett
I am sorry that my duty compels me to write to you upon a very unpleasant circumstance. I am sorry that your brother Sergt John Bennett was severely wounded on the evening of 22nd July at the Battle of Salamanca of which wounds he died in the town of Salamanca. . You may rely on it every care was taken of him yet his wounds were mortal. I have to lament a fine comrade in his loss, one I have been with ever since 28th March at Gloucester and am sorry to say he is now lieing in Salamanca burying ground. The amount of his effects I cannot be certain but you may be able to obtain your rights by making application on oath that John was your brother before a magistrate and signed by the minister of the parish. Make the application to Greenwood & Cox, Craigs Court, Charing Cross, London.
You would very much oblige me if you would undertake the unpleasant task of going to Mrs Guy's at No 5, Gravel Street, Lewins Mead, Bristol and inform her that her son John Guy was unfortunately killed on the evening of the 2nd July about 8 o'clock by a muskett ball in the breast. He died instantly. He was a sergeant in the light company and his loss I grieve and lament having been with him so long. She may also apply the same for her rights.
Our Regiments loss was severe in the Action. "We went in the field 800 on the 22nd July about 7 o'clock in the evening and on the morrow we was only 90 Privates and Sergeants standing. Our loss is kild and wounded, 1 Lt Col kild, 1 Major, kild, 4 Captains kild, 2 Lieutenants kild and 14 other officers wounded. You may judge our loss must be severe when the officers suffered so much."
I thank God I escaped and am with the 2nd Battn in Ireland and would have wrote before had I known where to direct as we always made a bargain to write to each other's friends if either of us was killed, so it came to my turn to write to you. 
I am your Thos Clark
Sergt of 2nd Bn Lt Regt
Empty packet addressed:
Mrs Hannah Sweet
Mr John Bennett
No 3 New Street
Lawford's Gate
Bristol. and endorsed 1813, Hannah Sweet.
(Loose letter, top cut off)………rather better now. Sorry to hear father has no work hope he will find employment soon but trade is altogether wretched bad. Give my dutiful love to father and mother, friends and relatives. My wife joins with me in the same.
I am sister,
Yours affectionately
Luke Bennett
This is to certify that Luke Bennett do freely give up all right or claims to and admit my sister, now Hannah Sweet of Bristol, to receive any sum or sums of money due to him, my late brother, John Bennett of 61st Regt.
Signed………… (left blank)
Witnessed (different hand)
John Bennett
Ann Tanton.
NOTES: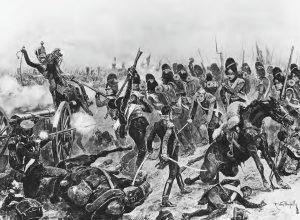 Salamanca, 22 July 1812 in which Anglo-Portuguese forces under Wellington defeated the French at Arapiles, south of Salamanca. Allied losses were British: 3129 and Portuguese 2038. The French suffered about 13,000 dead, wounded or captured. The victory enabled Wellington's army to advance on Madrid. The French were forced to abandon Andalusia and the loss of Madrid irreparable damaged King Joseph's pro-French government.
The 61st became the South Gloucestershire Regiment.
The Bennett family:  John Bennett, the father, his wife, and children, John, Luke and Hannah. Luke Bennett married Jane Hall at St John's, Bristol on 25th October, 1807: they appear to have left Bristol by the time of his letter to Hannah and by 1851 were living at Lambeth, in London. Hannah Bennett married James Sweet at Bedminster 28th November 1820.
John Guy, son of Zachariah & Lucy was baptised at St Philip & St Jacob, 19 July 1791 or
John Guy, son John & Prudence, was baptised at St Philip & St Jacob 11 May 1788.
JOSEPH LOVIBOND
(Document 39)
Addressed to Reverend Day and endorsed
Elizabeth Gordon at
Mary Goldsworthy
Avon Street
Middlezoy, 30 Decr 1812
Sir
On receiving a letter from you wherein I find you have stated to me the death of Joseph Lovibond and on examining the account I find that there is £2 5s 10d that was coming to him and if his wife will send or come in the Countrey I will pay her immediately.
Your humble servant
Geo Lovibond.
If Mr Geo Lovibond will give directions to us we will pay the above £2 5s 10d.
King, Caster & Lewis.
(A Lovibond family with the names Joseph and George came from Middlezoy in Somerset. A Joseph Lovibond married Ann Maria Long at St Peter's on 19th April 1809, in which case, who was Elizabeth Gordon?
EDWARD FRANKLIN
(Document 4)
This is a printed card with the legend: "NB. The Application must not be made until one month after this date. Patriotic Fund, 14 October 1812. The bearer of this card on arrival at his place of residence must make application either to a Magistrate or to the Minister of the Parish and on producing proof that he has a wife or children at such place request him to write with a letter to Mr J.P. Welsford, Secretary, Patriotic Fund, Lloyds for such gratuity as may have been voted by the Committee of the Patriotic Fund to the individual who so applies."
Addressee: Mr J. Welsford, Secretary Patriotic Fund, Lloyds, London
Sir, we hereby certify that to the best of our knowledge and belief Edward Franklin late of the 2nd Battalion 66th Regiment of Foot who was wounded in Spain has a wife and two children now residing in the parish of St Philips & Jacob, Bristol in the County of Gloucestershire.
W.Day, Vicar, Bristol 17 Novr 1812.
Reply:
This letter does not inclose the smallest proof whatever that Edward Franklin has a wife and family. There is no other proof other than the bare assertion. The woman and children have not been seen nor has the marriage certificate been produced to anyone.
J.P. Welsford.
Mr Day was evidently annoyed by this rude letter and sought documentary proof of the marriage. In the bundle is a copy of the marriage entry from the parish register of St Andrew's, Clifton:
Edward Franklin of this parish & Sarah Mellish of the same were married at the parish church of Clifton in the County of Gloucestershire by banns 21st day of January in the year of our Lord 1799 as appears in the register book. (signed) William Webb, clerk.
NOTES
Edward Franklin: born Abingdon, Berks, 1772
Edward Franklin married Sarah Mellish, Clifton, 21 January 1799. Witnesses were Ephraim Davis & Ann Price.
Joined Army:
Rank: Private
Discharged, unfit for further service in consequence of a gunshot wound to his foot, 2 October 1812. Acknowledged 4 October 1812, by the Mark of Edward Franklin. Pensioned. In 1841, Edward (70), ag. lab, & Sarah (65) were living at Easton, Welford, Berkshire, with George Brooks, 13, their grandson. In 1851, Edward "pensioner" aged 83, born Welford, again with George Brooks, gardened, now stated to be 20..
1813
JAMES FOX
(document 53)
Addressed to Mrs Hannah Fox, July 10 1813
Your letter respecting James A. Fox has been duly received. You are hereby informed that the wages will be paid to his widow, Mary Fox, of Wellingborough, Northamptonshire who was married to him on 1 October 1790.
The marriage date appears to be incorrect. James Fox married Mary Perkins at Olney, Buckinghamshire on 1 November 1790.
JOSEPH WARREN
(document 50)
Addressed to
Samuel Warren
Anston Court
Avon Street
Bristol
Adelphi, 25th August 1813
Mr. Samuel Warren
I have received directions from the Right Honourable the Secretary at War to pay the Legal Representatives of Joseph Warren, late a private in the 52nd Regiment who died on the 18th December 1812 the amount of his effects and credits being One Pound 4 shillings and 3d for which you may draw upon me attaching to your bill a certificate signed by the clergyman of your parish that you are the father and legal representative of the deceased and upon your shewing this letter to any Banker or Merchant you ill find no difficulty in getting cash for your bill.
I am &c &c
A. Warwin
NOTES: The 52nd was the Oxford Light Infantry.
Joseph, son of Samuel & Ruth Warren, baptised St Philip & St Jacob, 18 April 1790.
WILLIAM BAKER
(Document No. 49)
Letter addressed to the Secretary at War:
William Baker, born at Wells, Somerset, a labourer, volunteered May 1811 from the North Gloster into 56th Regiment. Supposed to be in the same 56th Regiment. Not heard of since his departure. (He is) husband of the applicant Joan Baker, Arnolds Court, Wade Street, Bristol.
The above begs you kindly inform her whether her husband be dead or not.
I am sir, &c
W. Day, Vicar of St Philips.
Bristol 29th October 1813
The letter was returned with a reply on the back: The name of William Baker does not appear on the rolls at the period stated, namely 1811 or since. It is therefore presumed he has not joined the Regiment in India in either Battalion. First Battn, last return 24th December 1812, 2nd Battn 31st December 1812.
NOTES
The "North Gloster" was the 28th Regiment. The 56th 2nd Battalion became the West Essex Foot. Possibly the William Baker who married Joanna Emery at Wedmore, Somerset on 13th March 1808.
1814
DENNIS HELLIN
(Document 17)
This application, 2 August 1814, is on a printed form, a batch of which were by Mr Merry to assist Mr Day in 1811.
Place of Birth – Manchester
Trade – Fancy Waistcoat weaver.
When enlisted – About 7 years ago, from Lancs Militia to 47th Foot.
Supposed Serving – 47th Foot
Heard from – About 6 years ago.
Cause of Enquiry – supposed to be dead
Enquirer – wife, Ann Hellin, at Rev. W. Day's, Bristol.
The form was completed by Mr Day, who added: Your information whether the above person be living or not will oblige the poor woman who is the wife.
But Dennis could not be found under that name, and a reply came back by return on the same paper: As the name does not appear you should state where he was last heard of.
Mr Day replied on 8th August: Last heard of in Portugal as his wife believes.
The Secretary at War replied on 19th August:  No such name as Dennis Hellin can be found about the period stated or since. Neither Battalion was in Portugal six years ago.
 Dennis still remains a mystery.
MOSES TALBOT
(Document 57)
This is to certify that Sarah Talbot is the mother of the person enquired about below. (signed) W. Day.
| | |
| --- | --- |
| What is the name of the man? | Moses Talbot, Corporal |
| Where was he born? | Marshfield in Gloucestershire |
| What was his calling when he enlisted | Butcher |
| Where and when did he first enlist? | Bath, about March 1810 |
| Into what regiment? | In the 4th Battalion of Royal Scots |
| In what regiment supposed now serving? | 4th Battalion Royal Scots |
| When was he last heard of? | Last letter dated Novr 27 1813 |
| Where was he then? | Stralsund |
| If he is supposed to be dead, state date of his decease | Have never heard anything about his death or illness |
| If you are not related to him what is the cause of your enquiry? | Mother of Moses Talbot |
| What is your name? | Sarah Talbot |
| Where do you live? | At Avery's in Gloucester Lane, Parish of St Philip and St Jacobs, Bristol. |
This is on a printed form with the answers filled out in handwriting.
It was a simple matter to find this family in the parish registers of Marshfield. Moses was baptised 5 June 1793, the third child of Moses and Sarah Talbot. He had siblings, Mary, 3 May 1789, Robert, 6 April 1791, William Smith, 9 December 1795, and John,
5 January 1798, and perhaps another Robert, born in 1806 whose burial, aged 18, is listed in 1824.
The form is undated, but it seems likely that the reason his mother was looking for Moses was because she suspected she had not long to live. Sarah Talbot was buried at Marshfield on   28 November 1813, aged 39 years, without knowing that her son was at that time still alive.
The reply to her request was not returned until 27 October 1815, from a Thomas Butts of the Office of Musters.
Corporal Moses Talbot, of the 4th Battalion 1st Foot, died at Lubeck, 27 October 1814.
NOTES
Lubeck was one of the Hanseatic ports. The Siege of Stralsund, between the French and the Swedes took place January – April 1807.  If Moses Talbot was there in 1813 it must still have been of strategic importance. .
Undated.
EDWARD HUDD
(Document 52)
A letter addressed to
Mary Hood
Bread Street
St Philips
Bristol.
Endorsed "not to be found"
Edward Hudd (and written in a different hand, "Hood, private")
Labourer, born parish of St George, Gloucestershire
Turned out of the North Gloucestershire Militia into the 52nd Regt and supposed to belong to the 52nd, now in Portugal. Mary Hudd, being the mother of the above Edward Hudd, living Bread Street, St Philips.
NOTES
There are several Hudd marriages at St George in the East, Bristol, but the most likely couple to have been Edward's parents are Thomas Hud (sic), of St Peter and Mary Holward, who married there on 1st July1787.
The 52nd was the Oxford Light Infantry whose Peninsular War Battle Honours 1808-1814 were for Vimiera, Corunna, Busaco, Fuentes d'Onor, Cuidad Rodrigo, Badajos, Salamanca, Vittoria, Pyrenees, Nivelle, Nive, Orthes, Toulouse.
Edward Hudd probably did not survive. And there is no trace of him in survivors' rolls.
Part 2: THE ROYAL NAVY
| | | | | | | |
| --- | --- | --- | --- | --- | --- | --- |
| Name | Date of letter/reply | Ship | Name of enquirer | Result | Survived | |
| John Raymond | 11.9.1803 and 9.9.1812 | HMS Diomede | Sister Frances Raymond | POW at Buenos Aires, 1812 | unknown | |
| Andrew Keniff or Kennett | 8.7.1807 | HMS Pallas | Mother, Margaret | Letter home | unknown | Irish, probably RC |
| Richard Miller | 9.7.1808 | HMS Blenheim | Father Richard Miller | Died 28.2.1807 | | Enquiries about prize money |
| John Parker | 17.9.1808 | HMS Suffolk | Mother Eliza Parker | Deserted 28.5.1810 | unknown | |
| John Horton | 14.7.1810 | HMS Lively | Mr Horton, father | Letter telling of death | | From Shipmates Wm Gloster and John Hale |
| Isaac Smith | 1.11.1810 | ? | James Smith | Alive 30.6.1810 | | |
| William Powell | After 31.8.1810 | HMS Plover | | Living on 31.8.1810 | unknown | |
| James Harding | 21.2.1810 | HMS Partridge | Mother, Hannah Harding | Living 29.1.1812 | unknown | |
| Thomas Webb | 27.11.1810 | HMS Peruvian | Mother, Mary Webb | Died 2.11.1810 | No | |
| James Hungerford | 21.12.1810 | HMS Hussar | Mother, Mrs Hungerford | Letter telling of death | No | From shipmate John Vinor |
| John Summers | 10.1.1811 | HMS Sirius | Mother, Hannah Summers | unknown | unknown | |
| William Lidden | 12.6.1811 | HMS Prince Frederick | Thomas and Ann Lidden, parents | Letter home | yes | Was married in Bristol in 1815 |
| Samuel Fuller | 13.6 & 27.13.1811 | HMS San Josef | Mother, Martha Fuller | Asking about wages. NR | Died 2.11.1810 | |
| John Spurr | 27.6.1811 | HMS Grappler | Mrs Elizabeth Spurr (wife or mother?) | Letter telling of death | No | From Transport Office |
| John White | 10.8.1811 | HMS Courageux | Mrs Sarah White (wife or mother) | Living in April 1811 | unknown | |
| James Thomas | 28.11.1811 | ? | Mrs Thomas, widow | Letter re death | No | |
| Jacob Farrier | 30.5.1812 | HMS Puissant | ? | Not aboard 1.3.1803-31.3.1805 | unknown | |
| Robert Broadbeard. | 16.6.1812 | Centaur | ? | Died 17.7.1808 | No | |
| Francis Barnes | 7.11.1812 | HMS Castor | John Barnes | Letter telling of illness | unknown | From shipmate William Cousins |
| Joseph Webb | 8.2.1813 | HMS Andromache | ? | Date of Discharge 12.12.1811 | unknown | A Marine |
THE NAVY LETTERS
1803 & 1812
 "A Man of War is miserable place" James Harding, 1810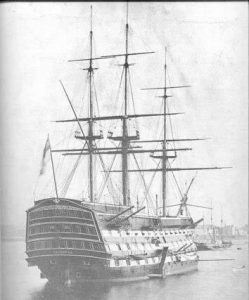 JOHN RAYMOND
(Documents 11 and 28)
Letter from John Raymond (signed J.R.) to his sister Frances, dated 12 September 1803.
To Frances Raymond
At Philip Daniels
David Street
Nr the Broad Plain
Bristol.
From H.M. Ship Diomede, Guernsey Roads. (Countersigned G. Brink, Lieut.)
Dear Sister
I sent these few lines to let you know there is an expedition fitted out of this place against the French. I believe it his an Island not far from us. All the ships belonging to this squadron his going except ours. The reason our ship doe not his that she draughs too much water that she is large and the place fery rockey and dangerous for our ship. The signal his made now wile I am writeing to get underway. Our admiral James Summareres has hoisted his flag on board the Citrus frigate. I think I ham as well where I am as to be with them but if it had been my lot to have went with them no dought but providence would have protected me as it have hither two. If not I must have shared has many as my brave Countrymen have. You will hear tell how they succeed. Dear sister, I ham very well and I hope you are well and my uncle better. It his Bristol fair. What sort of a fair have you had? I suppose there was a plenty of young women there. I imagine you and your sweetheart was there. If I had a been with you I would have gave you a handsome fairing but sister if you are anyways given to a partner be very carefull of your choise for there his many wild young men in Bristol and eveil desir'd people, but sister be carefull of these kind of people and sister if you think of doing it never do it without you have been perfectly well acquainted with his temper and behaviour for it will be too late when you have had honey connections together. Now sister your future happiness would depend on these few lines of advice. Sister I think it his Brotherley duty to tell you of these dangers which I hope will Improve your youthfull mind. Sister your brother ever wish to see you happy and comfortable. Let me be even more so, Dear sister. I lives in hope of being at home to see you happy and comfortable has I hope will be shortly in my own case. Wright every opportunity. I have sent to you three letters and have not received any answers. I hope sister you will not neglect sending to your brother, so no more at present from your affectionate and loving brother. J.R. 
Whether the flighty little madam heeded her brother's advice as regards to boys, or even replied to his anxious letters, we shall probably never know, but at least she kept this letter, and produced it went she went to see Mr Day, nine years later. If he read it aloud, both she and the good vicar may have blushed. The vicar wrote to the Navy Office about John, and received a reply on 9 September 1812:
Sir: I am commanded by the Commissioner of the Navy to acknowledge receipt of your enquiry concerning John Raymond, seaman, formerly belonging to HMS Diomede, and to acquaint you he was taken prisoner at Buenos Ayres. Your further application regarding him must therefore be made at the Transport Office.
Your humble servant
G. Smith.
When no further news was forthcoming, five months later, Frances went to see Mr Day again. He received a reply on a stereotyped form dated 9th February 1813, signed by the same G. Smith:
Not any returns for HMS Prisoners of War Buenos Ayres has been received at this office. No information regarding the above man. 
NOTES:
9 Jun 1803: Diomede under orders to join Sir James Saumarez's squadron off the Channel Isles.
14 Jun 1803: Diomede departed Spithead, Capt Larcom, to receive the flag of Sir James Saumarez's, off the Channel Isles.
12 Nov 1803: arrived Spithead from Guernsey.
16 Nov 1803: a court martial was held at Spithead on Boatswain's Mate S Thompson, of the Diomede, for having on the 17 Oct shoved Richard Wheatland, one of the carpenter's crew, down from the lower deck, into the orlop, in the main hatchway, receiving injuries from which he subsequently died. Whilst being acquitted of murder he was found guilty of having shoved him down the hatchway.
16 Nov 1803: Seamen C F Smedbar, and W Price, also of the Diomede, were found guilty of desertion and sentenced to 72 lashes each.
26 Nov 1803: Diomede come into Portsmouth Harbour from Spithead.
Between June and October 1806, Diomede saw action in the South Atlantic at the River Plate, at the capture of Buenos Aires and at the attack on Montevideo, a combined army/navy operation. The Battle of Montevideo took place in February 1807.
It seems unlikely that Thomas Raymond survived imprisonment to return to Bristol.
Fanny daughter of John and Phoebe Raymond was baptised at St Philip and St Jacob, 2nd March 1788.
1807
ANDREW KENNIFF or KENNETT
(Document 25)
Addressed:
Margaret Keniff
Chapple Lane
Brandon, County of Cork
Ireland
Portsmouth, on board HMS Pallas 6th July 1807 
Dr Mother
This comes with my love to you hoping to find you in good health etc as I am here at present, thanks be to God. Dear Mother, we are now lying here in Spithead waiting for an order to engage the French Fleet who are Lying in anchor called Hushan (Ushant?) in company with the ships of the Line and 14 frigates and 40 thousand. We wait to sail every day. I wrote to you dear mother but am greatly surprised you sent me no answer, which gave me great sorrow thinking something might be the matter with you. I hope you will let me know if you have heard anything about my brother and give my love to my sister and all enquiring friends. When you write, send you letter to me on board HMS Pallas, Portsmouth – I pass three years on board of a [illegible]. Dear mother, I hope you will write by return of post so no more at present, but remember your loving son unto death.
Andrew Kenniff
Seaman on board HMS Pallas
In different handwriting:
Margaret Kennett
Tower Hill
Bandon, Ireland
NOTES
Kenniff and Kennett appear to be interchangeable and might also appear as Kenneth. There are certainly people of these names living in Cork about this time. How did Margaret come to be at Rev Day's "Advice Surgery". I am quite sure Andrew was a Catholic by reason of his "Thanks be to God.
1808
RICHARD MILLER
(Document 18)
Printed Form No. 6035, dated 9 July 1808. Addressed to
Richard Miller of Austins Court, Avon Street, St Philips
Father of Richard Miller, late of HMS Blenheim, 1795, died 28th February 1807. 
No prize money payable, 3rd application 4th May 1809, 12th September 1809, 4th application 5th September 1811.
NOTES
HMS Blenheim left Madras 12 January 1807 with the sloop HMS Harrier and the frigate HMS Java. The latter ship was "a prize" recently captured from the Dutch. Blenheim & Java parted company with Harrier on 5 February 1807 when flying distress signals. The French frigate Semillante reported seeing them on 18 February in a gale. They were also reported in distress off Reunion. No further trace of either ship was ever found, despite extensive searches with the co-operation of the French. They were presumed to have foundered off Madagascar.  It is impossible not to take note of the indifference shown in the Navy Office's reply.
JOHN PARKER
(Documents 61 & 29)
Addressed, in very large handwriting:
To be left at William Hewins
Opposite the 5 Tuns
For Eliza Parker, An Street
Lawfuls Gate
Bristol
And in very small writing:
John Parker. Seaman on board his Majesties Ship Suffolk
Portsmouth, the 17th (no month, but presumably September) 1808.
Dr Mother
I hope to find you in a good state of health which I am at present. I receifed your letter the 17th September (that) the money I put in the Post Office you said you did not receifed  After you went away, I receifed a note from the Post Office to certify that you receifed the money the 25th so I would wish to know whether or not you receifed the money or not. The reason I did not wright that I did not make an answer to the last letter because I was satisfied to think you had got the money after you getting home. I hear by your letter you was in a very bad state of health. In all the letters you wrote you did not make mention of my sister. I beg you will give my love to my sister Hannah and to all Friends. I beg you will take care of the shot you took off me until I shall see you again. Right an answer to this letter as soon as possible, dear mother, and not to write any more until I send you another letter. The next letter you send have it wrote plain. 
I am your
Affectionate son
John Parker 
William Nichols gives his kind love to you and hope you are well. He would send you a letter if I ad not.
Poor John was understandably feeling harassed about the missing money and the bombardment of letters from his mother which were "not wrote plain". She had been to visit him and he had given her some "shot" – was this cash? Nearly four years later, not having heard of him again, she took this letter to Rev Day, who made enquiries. The reply from the Navy Office on 6th June 1812 would have come as a huge shock.
Your letter of enquiry concerning John Parker, seaman, has been received, and I desir'd by the Commissioner of the Navy to tell you that he run from his ship Suffolk on 28th May 1810 at Portsmouth from leave and they are therefore unable to give you any further information respecting him.
NOTES.
At the time John deserted, Suffolk was preparing to invade the island then known as Ile Napoleon, now Reunion, in the Indian Ocean.
1810
 JAMES HARDING
(Document 26)
Letter addressed to:
Mrs Hester Harding
Temple Street
Weavers Arms
Nr Temple
Bristol
Somersetshire, England.
 HMS Partridge, off Cork, Ireland, February 21st 1810
Dear Mother
This comes with my kind love to you, hoping it will find you in good health as it leaves me at present, thank God for it, letting you  know I am now at Ireland about five miles from Cork and how long we shall stop here I cannot tell, for we have got the Irish States. Dear Mother, I sent in a letter when I was at Spithead letting you know I was aboard His Majesty's Sloop of War Partridge where I embarked at Plymouth about 3 months ago and I have been on several cruises since and are now come to Ireland. I am the gunner's servant, and he is a good kind man and that makes my situation better than it would be, for a man of war is a miserable place, but I hope I shall be clear before long and be at home with you. Please to give my kind regards to Mrs Chinea and her husband and Mr & Mrs Hutchman and John Hutchman and all enquiring friends. So no more at present from your affectionate and dutiful son, James Harding.
S. Please to answer this by return of post and direct for me on board HMS Sloop of War, Partridge, Cove of Cork, Ireland, or elsewhere.
Who knows whether Mrs Harding replied by return? Sadly, James was heard from no more, and his mother took the letter to Mr Day who approached the Navy Office and obtained the following reassuring answer:
Ship's Name: Partridge
Number on Ship's Books: "Boy 3rd Class".
Man's Name: James Harding.
7th May 1812
On last muster received from HMS Partridge, 29th Jany 1812, he was then living aboard her.
NOTES:
James was 14 years old, baptised at St George, son of James & Hester Harding, 1st May 1796, making him the youngest person of the letters. If only we knew the name of the kindly gunner.
Commander William Foote commissioned Partridge in September 1809. She escorted a convoy to the West Indies on 26 October 1810. In October 1810 Commander J. M. Ayde assumed command. When the news of the 1812 war with America reached Britain, the Royal Navy seized all American vessels then in British ports. Partridge was among the Royal Navy vessels then lying at Spithead or Portsmouth and so entitled to share in the grant for the American ships Belleville, Janus, Aeos, Ganges and Leonidas seized there on 31 July 1812.
JOHN HORTON
(Documents 59 & 24)
Seaman William Gloster addressed his letter:
Thomas Bullock
At Wells Square
Saint Philips
Bristle
England
But wrote to Mrs Bullock 
Dear Mrs Bullock
I have to inform you that I am in perfect good health thank God and hopes this will find you in the like manner.  You will please inform my father and sisters that I am in perfect good health. We lay at Cadiz three days and now at Gibraltar and expect to sail up the Straits every day. Give my best respects to your daughter Mary, likewise your son Jas. And his wife. Remember me to John Turner and Jas. Smith. Tell Mr Horton to give my best respects to Shuky, Misses Lacy Gorsly (?) and let me know how John Love (?) – page broken – is and like manner his mother and sister Lacy. We expect to go where Isaac Smith in our voyage. My respects to Wm Smith. So I shall conclude with respect to yourself
Wm Gloster, seaman aboard HMS Lively
Mediterranean or elsewhere.
But William's main reason for writing was in the same packet, which asked Mr Bullock to pass on the sad news of John Horton's death to his father.
Gibraltar 14th July 1810
Mr Horton
It is with regret I have to inform you of John your son's death after a liver illness of a decline since ever he came aboard. You may depend that attention has been paid him even suppose to you were along side him yourself. I attended him regular every day from the Beginning of his trouble. He is to be entered ashore on the Rock of Gibraltar as we lie in the Harbour of that place. In my opinion the sea fareing did not agree with his health. You will have the goodness to write an answer to this direct to William Gloster, Mediterranean or elsewhere. John Hale paid the greatest attention to him in his power. So we shall conclude with respect
Yours
Wm Gloster and John Hale.
In the meantime, Mr Horton appears to have been making enquiries of his own, and it seems very likely that the John Hearton or Hatton on the Lively referred to below is actually the same John Horton, above. In which case he was a Marine, which might explain why the "the sea faring did not agree with him".
Navy Office, 17th October 1810
The Commissioners of the Navy have received your letter 2nd inst and directed me to acquaint you that by the Muster Book received from his Majesty's Sloop Lively, the name John Hearton does not appear therein but the name John Hatton, a marine was living on board the same ship 23rd May 1810.
NOTES:
HMS Lively was a 38-gun fifth-rate frigate launched in 1804 and wrecked off Malta in 1810.
A Thomas Horton married Elizabeth Noble at St Philip and St Jacob's on 18.2.1784 who may be John's parents.
Isaac Smith, (presumably the same man) mentioned in William's letter to Mrs Bullock, was also enquired about.
WILLIAM POWELL
Document 10
Answer to an enquiry on a printed form stating that William Powell of H.M. Sloop Plover was known to have been living on 31st August 1810.
THOMAS WEBB
(Document 14)
Addressee
Mrs Mary Webb
To be left at Lower Three Tuns
Lawrence Hill
Bristol.
Thomas Webb, late of His Majesty's Ship Peruvian who died at this hospital 2nd Novr 1810 left no other property than a few old cloths which if not claimed before the expiration of two months by application of his nearest relatives producing proper certificates to the Governor of the hospital, they will be sold by public auction and the amount added to the wages due him up to the time of his decease for which application must be made to John Bedingfield, Esqr, Navy Office, London, forwarding at the same time the enclosed certificate who will immediately send the parties claiming his effects, the necessary papers to fill up to enable them to recover the amounts.
Royal Naval Hospital, Plymouth
27th November 1810 
By the 6 September 1811, when no progress had been made, Mr Day wrote to the Navy Pay Office, and received the following reply:
Thomas Webb of HM Ship Peruvian, W2505.
The Paymaster of His Majesty begs leave to inform the Reverend W. Day that Thomas Webb was discharged from HMS Peruvian on the 24th July 1810 to Barbadoes Hospital, from which no accounts have been received for that period to show when he was discharged for passage to England.  Although a proof of the seaman's death is in the office, yet the claim must wait accounts from Barbadoes in order to show his discharge from that hospital. If Mary Webb will apply again in three months, accounts may then have been received.
Navy Pay Office
25th October 1811
ISAAC SMITH
(Document 15)
Reply dated 1 November 1810 addressed to
Mr James Smith
St Philips
Bristol.
Memo 202. Isaac Smith was living 30th June 1810, dated of last account.
NOTES:
Isaac Smith is mentioned in William Gloster's letter to Mrs Bullock. See John Horton above.
JAMES HUNGERFORD
Document 2
Letter addressed to
Mrs Hungerford
Living from the Rose and Crown
In the Narrow Plain
In the Parish of St Philips
Bristol.
Leith, Decr 21 1810
Mrs Hungerford
I take this opportunity of writing these few lines hoping to find you in good health as this leaves me at present. Dear Friend, I have the melancholy duty to inform you that yesterday the 30th Novr about 2 o'clock in the afternoon your son James Hungerford departed this life and I as a friend and townsman has thought proper to let you know it but I hope you will not take any trouble as it is a debt we must all pay either sooner or later and I have to inform you he was quite sensible to the last and had every care taken of him as if he had been at home with you. I hope you will not take any trouble about it as tis all to no purpose and he did not die a sudden death for he has been complaining a long time and take to his bed nearly three weeks before he expired and me out of respect for you and your son thought it proper to write and inform of all particulars. I have to inform you that your son has upwards of ten pound due to him and we expects to come to England every day and if you come down to me I will get the money for you. As we expects to be in Portsmouth in the course of a few days and then I will send you a letter to come yourself or send your son in law and have the money due to you. It will be proper for you to bring a note from the churchwarden to certify you are the mother without any further trouble.
I remain, your friend and well wisher till death
John Vinor.
NB If you please you may answer this direct to John Vinor, seaman on board HM Ship Hussar lying in the downs near Deal as I shall be there before you letter comes to hand. Please to put one penny with your letter and then it will pass free.
Mrs Hungerford brought this letter to Mr Day, and she asked him what she should do. He took the matter in hand, and there must have been a very swift horse and rider, for his letter was dated and responded to on the same day, 28 December 1810, from HMS Hussar, lying at Spithead.
Rev'd Sir
In answer to yours of the 28th instant, I have to inform you that there is ten pound on board belonging to James Hungerford deceased which I will remitt when informed of the safest manner of conveyance. His effects were sold on board and the account transmitted to the Navy Board, the amount of which will be received with his wages.
If you forward his register and a certificate signed by you to the Navy Board certifying the infirmities of his relatives I have no doubt the amount will be remitted.
I am sir
Yr most obedient servant
J.H. Wray.
But there was a problem. It would appear that Mr Hungerford senior was senile, and Mrs Hungerford ought to have known her place. Letter to Rev. William Day, 14 June 1811:
Sir
There will be some degree of difficulty in granting administration to the mother of James Hungerford while the father is in existence. If the poor man is capable of making his mark and if his mind retains so much rational power as would justify an oath being administered to him, I would recommend the claim proceeding in his name. Indeed should his wages due not exceed £10 or even £12 the money may be paid to him without any administration charge being exacted.
I have the honour to be sir
Your very humble servant
Henry Cranstoun
A. Inspector
Lomond House.
The next letter is in very bad handwriting, apparently from an official:
Sir. Enclosed you will receive the ten pounds belonging to James Hungerford and which I will be obliged by your acknowledging the receipt by writing to James Smythe, esquire. No. 22 Arondre, Srut Ham. (Streatham?)
On the back is written £10.0
                                       3.3
                                   £6.17
1811 – James Hungerford.
From which it would seem that despite Mr Cranstoun's assurances, the rather an extortionate 3 guineas was after all taken from James Hungerford's wages for administration.
NOTES:
Hungerford marriages at St Philip & St Jacob's church:
John Hungerford and Ann Shepherd 3.5.1773
John Hungerford and Jane Taylor 14.9.1775
William Hungerford and Mary Smith 14.5.1786
1811 
JOHN SUMMERS
(Document 12)
 10 January 1811
Sirs
The earnest request of one of my parishioners Hannah Summers, mother of Jno Summers who was employed as a Marine aboard H.M. Frigate Sirius, I trouble you with this letter. She has heard of the unfortunate catastrophe of that vessel and is alarmed for the safety of her son. She would be grateful if you could inform her whether the said John Summers is alive or dead. I am, sirs
William Day
Vicar of St Philips.
The reply, by return, 11 January, is written on the back of Mr Day's letter:
Sirius. No accounts have been received respecting the crew of the above ship therefore no information can be given for some time. 
NOTES:
Sirius took part in the naval battles for Ile de France (Mauritius).  She went aground during the Battle of Grand Port, August 1810. When she could not be released, the crew evacuated, 25th August, and she was set on fire and exploded to avoid her being taken by the enemy.  The battle was an important victory for the the French.
Hannah Summers lived at Great George Street.
WILLIAM LIDDEN
(Documents 22 and 66)
(NB. I have left William's eccentric spelling intact, but have added some punctuation.)
Packet addressed to
Thomas Lidden
No. 4 Barrow Lane
Outside Larence (sic. Lawrence) Hill
Laffords (sic Lawford's) Gate
Bristol
12th June 1811, Prince Frederick
Dear Father and Mother
I embrace the Earlist opportunity of written these fue lines wich I hope will find you all as well as it lives mee a Great Deal Better and to Lett you know that I ave Received the 7 shillins that my sister sent mee and I am very mouch oblidged to her for it. My dear Mother I did not get the Letter till the Latter end of last week as it was delaid in the Post Office but Mary Chapman sent mee the letter on Bord to lett me know how uneasy you was about mee and I told her that she had no Occasion to visit as I should write my self but dear Mother she as been with mee on Bord ever since. I left the Hospitle Dear Mother. I cannot tell how longe I shall stay on Bord of this ship. Weather I shall be sent to aney other to gain my one or weather I shall remain hear till my ship comes into this port again. My dear mother I wish that I could ave found your words to a been as you wrot to Mary. I would not ave stopt in Plymouth longe as my longen Dissire is to see you as soon as posiable I can. I wish it was today then I should be happier than ever, tho I cannot say but there is many thousand shores the same feat as I don, so it is if now you're to repine. (?) Please give my love to my brother and sisters and to my nephues and I hope they are all well. Please give my love to my aunt Packer and Phebe and all enquiring friends.
So dear mother I conclude with all my love and duty to you
and remain your dutiful son
William Lidden.
Direct for me on Bord HM Ship, Prince Frederick, Honnors, Plymouth Dock.
But there was an immediate change. On the back is written
When you write, Direct to Gibraltar as I ave left Plymouth this day in the Ancaster Frigett to join my ship.
Mary Chapman, who had "been with me on board ever since" and was apparently unwelcome, did not report back to the Liddens when William left for Gibraltar, and his letter was seemingly delayed. In the meantime they had approached Rev Day who wrote to the Navy Board on the 27th June. The Treasurer replied on 5 July: The Navy has referred to us your letter of 27th ult. That the allotment executed by W.H. Lidden now belonging to H.M. S. Prince Frederick in favour of his mother be continued.
In answer, we acquaint you that as he remained upwards of a month at the hospital he ceased to be entitled to wages and the allotment was stopped. If he is on board the Prince Frederick she may write to him to make her a new allotment.
It is almost unbelievable. I wonder what William lived on when he was at the hospital?
William's story is one of the few which had a happy ending. On the 24th October 1815, he was married at St Augustine the Less to Phoebe Packer to whom he had sent his love in 1811.
Thomas Lidden and Ann Hicks, both of "West Street in this parish" were married at St Philips on 28.10.1771. They had eleven children brought to the church between 1772 and 1793, of whom William was baptised on 26 December 1784, so that he was in his 27th year when he wrote home. The brother he refers to must be Thomas, born 1793, as presumably the three before him, also named Thomas, must all have died as infants. We know from his letter that several sisters had also survived, and that he had several nephews.
SAMUEL FULLER
(Documents 8 and 14)
Rev Day wrote to the Navy Office on 13th June 1811. It was apparently the second letter on this subject:
The mother of Samuel Fuller of HMS San Josef having rec'd no account respecting her son tho' some months have elapsed since I last wrote to you. (She has) requested me again to solicit your kind attention. By a letter rec'd from another son in His Majesty's service she understands that he died eight months ago and as she is extremely poor if there are any wages or prize money due to him. Your putting her in the way to receive same would oblige
Yr obedient servant
W. Day.
When there was no reply, Mr Day wrote again on 27th June:
Sir
At the earnest request of Martha Fuller, a widow and mother of Samuel Fuller, late of H.S. Ship San Josef I write to solicit your attention to her case. He died 2nd November 1810 as appears by official account and you will greatly oblige by putting her in the way of obtaining what may be due to him in wages etc. I am sir
Your obedient servant
W. Day
Vicar of St Philips.
NOTES
No reply has survived.
Samuel son of John & Martha Fuller, was baptised 23 Aug. 1786, St Philip & St Jacob.
JOHN SPURR
(Document 3)
Addressed to
Mrs Elizabeth Spurr
At Mr Cramptons
New Street
Bristol.
Transport Office
27 June 1811
Madam
I have to inform you in return to your letter dated 11th instant that it appears that John Spurr late of His Majesty's Gun Brig Grappler died at Valenciennes on 27th January 1810. With respect to wages that may be due to him, I am to refer you to the Navy Pay Office, and am, Madam,
Your most obed't servant
Alexr McLeay
NOTES
Valenciennes was a French POW Camp. – the records are at PRO, Kew.
JONATHAN HILL or WHITE
Document 4
From the Navy Office dated 10 August 1811 to:
Mrs Sarah White
At Mr Tho Clark's
10 Wade Street
Lawford's Gate
Bristol
It appears from the last Muster Book received from His Majesty's Ship Courageux that Jonathan Hill was living on 30 April 1811. As it frequently happens that Muster Books are not regularly received from H.M. Ships, you are desired to not send another enquiry for four months from the date hereof.
And enclosed a Navy Office printed form with details filled in my hand:
Ship's Name: Courageux
No. on Ship's books: 70
Man's name: Jonathan White*
This seems to be a mix-up between the two names, John White and Jonathan Hill.
HMS Courageux had departed for the Texel on the 19th April 1811, under orders to join the Baltic Fleet. It might She returned to Portsmouth on 24 December and was under repair in January 1812.
JAMES THOMAS
(Document 6)
Letter addressed to Rev W. Day from the Chest Office, Greenwich, dated 28 November 1811
Sir
Herewith you will receive a bill for £1.13s 4d due to the widow of the late James Thomas and as you did not furnish me with her Christian  name you will have the goodness to insert it before she presents it to the Collector of Customs, Bristol. I am sir
Yr obedient humble servant
Sam. Smith.
1812
JACOB FARRIER
(Document 56)
Addressed to W. Day.
30th May 1812
Enquiry re Jacob Farrier, seaman. Muster Books of HMS Puifsant examined and name not found 1st March 1803 to 31st March 1805.
Puissant was a former French ship handed over to the British by French Royalists. She was unarmed in 1803 and became a receiving ship confined to port. Jacob Farrier was baptised at St Philip & St Jacob, 5 September 1790, son of William & Elisabeth.  Had he been a boy sailor missing since 1805?
ROBERT BROADBEARD
(Document 31)
 16th June 1812.
In answer to yours of the 10th inst. I am directed to inform you that it appears from the muster books of HMS Centaur that Robert Broadbeard died on 17th July 1808 and your letter has been referred to the Treasurer of the Navy.
NOTES:
A Robert Broadbeard, son of Thomas & Ann was baptised at North Petherton, Somerset 12 January 1776. Centaur was in action with the Baltic Fleet in 1808.
FRANCIS BARNES
(Document 1)
Packet addressed to William Day, and endorsed, apparently incorrectly, Ed Franklin, with "content F. Barnes."
The letter is addressed
Mr John Barnes
Little Ann Street
Outside Lawford's Gate
Bristol, Gloucestershire.
William Cousins, seaman on board HMS Castor, Gibraltar, 7 November 1812, countersigned Richard Loveless,  — Cary, officer, HMS Castor, Gibraltar, 7 Novr
Sir
I take this opportunity of writing to you hoping these few lines will you and your family in good health, but I am sorry to inform you of the ill state of health of your son Francis Barnes and to inform you that your son went into hospital yesterday. Sir, I am very sorry to inform you that your son was in a declining situation as he has been for some time past, has he has always been sickly for these many months past as been occasioned by a blow off the main topsail yard in this same ship. In the hope you will favour me with an answer and likewise your son F. Barnes, Gibraltar Hospital, or elsewhere, so I remain, yr humble servant, Will Cousins.
Direct for William Cousins, seaman on board HMS Castor, or elsewhere.
NOTES
A man called Francis Barnes was at Trafalgar in 1805; he may be one and the same.. John Barnes and Elizabeth Sandling who married at St Philip and St Jacobs on 14 December 1786, may have been his parents.
1813
JOSEPH WEBB
(Document 47)
addressed to Rev W. Day.
8th February 1813
Reference your letter of enquiry Joseph Webb appears to have been discharged from HM Ship Andromache, late Princess Charlotte at Marine Headquarters, Chatham, 12th December 1811. For any further information apply to the Commanding Officer of Marines at the Port.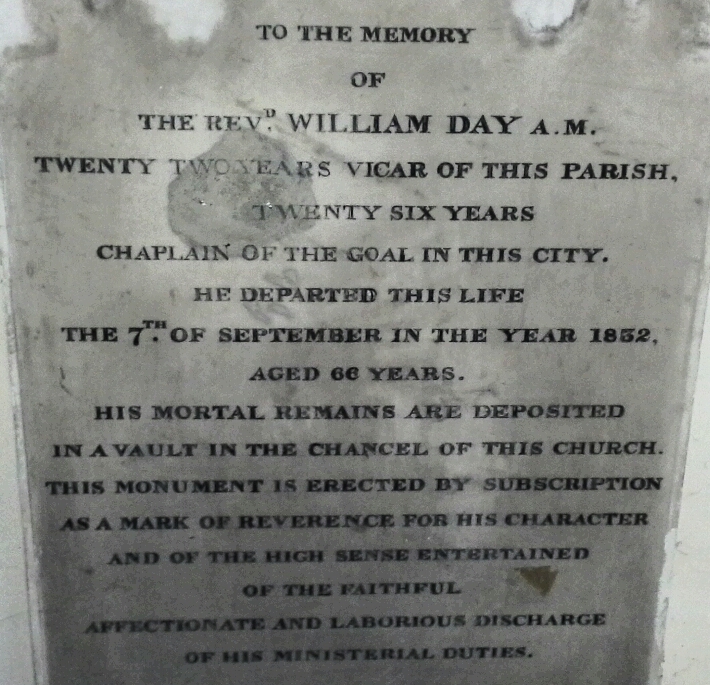 For contrast see "Manning the Royal Navy in Bristol, 1739-1815". Which contains lists of men d" impressed men. (Bristol Record Society, Vol. 66.